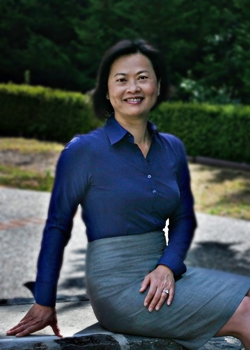 A specialist in real estate and construction law, attorney Michelle Leu Zaccone serves Bay Area businesses, organizations and investors. In her extensive experience, she has advised and counseled clients on transactions, dispute resolution and litigation.
Michelle is based in Burlingame, and is a licensed real estate broker with a LEED® AP Building Design & Construction designation.
Passionate and pragmatic
A stickler for personal service, Michelle customizes her strategy for each client. She has built her law practice on a passionate commitment to protecting and advocating on their behalf. She says, "Every client is very important to me – on a personal level. I am focused on providing peace of mind and the best result."
To ensure the most beneficial outcome, Michelle starts with the end in mind and takes a team approach to problem solving. She believes collaboration leads to a better resolution, and maintains strategic relationships with a network of complementary professionals.
Professional background
A former partner with leading Bay Area firm Carr McClellan, Michelle followed her entrepreneurial heart to open a solo practice in July 2012. She continues to offer clients attentive, streamlined service, now with the independence and cost-effectiveness of a boutique practice.
Known for going the extra mile, Michelle has found that clients come to her largely by referral. "It helps to begin a project with a built-in level of trust," she says.
Native Chinese speaker
Michelle grew up in Taiwan and came to the States to pursue a graduate degree. She is fluent in written and oral Chinese (Mandarin and Taiwanese), and brings an immigrant's can-do attitude to her practice.
Other interests
Michelle relaxes by hiking, traveling and exploring new restaurants. She is also an avid reader and gravitates to mysteries because she can't stay away from problem solving. To contribute to the community, Michelle serves on the board of San Mateo-based Caminar, a nonprofit that provides supportive services for adults with mental, physical and developmental disabilities.
Academics
J.D., Santa Clara University
Licensed California Real Estate Broker
LEED Green Associate – 5/2010 – 5/2012
LEED® AP Building Design & Construction – 7/2010 – 7/2012
Completed SEEDS Community Resolution Center Training in Mediation for Conflict Management
Affiliations
State Bar of California
San Mateo County Bar Association
San Mateo County Association of Realtors
Caminar, Board of Directors
Find out more about:
Michelle's practice areas
How to contact Michelle